Re: What to do about decline in personal hygiene
---
Is there a day treatment program he can go to, where they offer social skills training and hygiene training?. Perhaps if he has some outside people that depend on him to show up clean and ready to go, perhaps over time his hygiene will improve. I understand your plight. I am bipolar, but I have never gotten like your son. However, my brother who is also bipolar, has terrible hygiene just like your son. From someone who has come from both sides of the fence, I just want to validate your feelings and tell you that your feelings are normal too. Perhaps there is a support group nearby that you can attend? Try NAMI - National Alliance of the Mentally Ill. They have some great resources for families as well as clients.
__________________
Lauru-------------That's me, Bipolar and Watching TV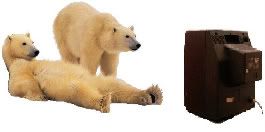 I shall be telling this with a sigh
Somewhere ages and ages hence:
Two roads diverged in a wood, and I—
I took the one less traveled by,
And that has made all the difference.
---Robert Frost